Centro Comercial San Diego claims to be the first Western-style shopping mall that was built in Medellín and also the first shopping mall built in all of Colombia. San Diego mall first opened on November 3, 1972 with only 54 stores. It has expanded since that time to where it now has over 230 stores.
San Diego mall is an open-air mall. This is similar to some of the malls in San Diego, California – which may be a reason why this mall in Medellín is named "San Diego".
History of Centro Comercial San Diego
A group of Antioquenos led by Rodrigo Mora Montoya, Sergio Londoño Uribe and Rodrigo Restrepo P conceiving the project for Centro Comercial San Diego, the first shopping mall in Colombia. The founders of the mall claim that the mall helped change the buying habits of consumers and also helped stimulate the creation of additional shopping malls throughout Colombia.
The mall project promoted urban development south of the city, allowing the development of first commercial and then many residential areas near the mall.
After opening in 1972, the mall has expanded four times. So, it now has over 230 stores. The fourth expansion reportedly added the food court on the second floor and additional parking spaces.
In 2010, the larger Premium Plaza mall opened a few blocks south of San Diego Mall. But San Diego mall still remains popular and only has a few vacancies. Premium Plaza mall also had a few vacancies the last time I was there.
The Shops in Centro Comercial San Diego
The anchor tenants of the mall are Alkomprar, Exito and Falabella. In addition, the mall has over 230 shops and businesses of all types.
The shops and businesses in the mall include banks, male and female fashion, children's and youth clothing, footwear, jewelry, sporting goods, photography, stationery, furniture and decoration, lingerie, opticians, beauty salon, travel agencies, restaurants, fast food places and a playground.
Similar to many other malls in the city, it also has a currency exchange – Cambios y Divisas, which is local 2287 in the mall. The Banks in San Diego mall include Bancolombia, Banco de Bogotá, Colpatria and Davivienda.
The mall also has 120 offices in a tower where you can find many doctors, dentists and other professionals. And on the top floor of the tower is the Cardiology department – CES  Cardiology San Diego.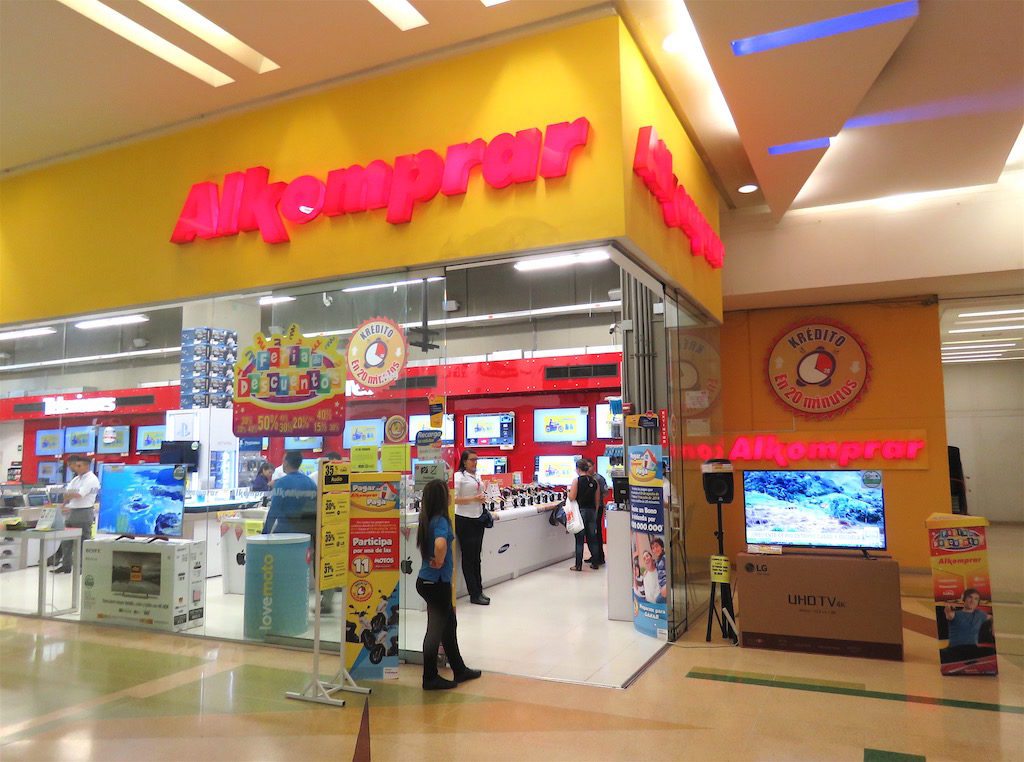 Alkomprar in San Diego Mall
Alkomprar is like a small Best Buy selling appliances, audio equipment, cellphones, computers, televisions, mattresses, motorcycles and other electronics. In addition, they frequently have sales.
Most noteworthy, Alkomprar frequently has sales that are advertised in fliers. You can pick up the fliers in the stores and they also sometimes have people handing out their fliers in the malls.
Typically, the sales include some televisions with up to 45 percent off, some computers for up to 35 percent off, some appliances for up to 35 percent off and some cellphones for up to 40 percent off.
You can also find Alkomprar in several other malls in Medellín including Florida Parque, Los Molinos, Mayorca and Puera del Norte. In addition, there is an Alkomprar store in Rionegro at San Nicolás mall.
Exito Supermarket in the Mall
Exito is a large supermarket chain in Colombia that also sells appliances, electronics, clothes, home furnishings, kitchen items, and many other things. An Exito in Colombia is similar to a Walmart in the US.
Exito has 26 of its large grocery stores in the Medellín metro area. It also has some smaller Exito local markets. In addition, Exito owns the Carulla grocery store chain, which has several locations in Medellín.
If you shop frequently at Exito and/or Carulla you should sign up for Puntos Colombia, which is a program that used to be known as Puntos Exito. Puntos Colombia is a frequent shopper program where you accumulate points for each purchase. You can use these points to purchase items in the future.
To sign up for Puntos Colombia you just need a Colombian cedula ID. And it's essentially like getting 1 percent cash back on your purchase that you can use for future purchases. With the program you get 1 punto for every 700 pesos in purchases. And that 1 punto is worth 7 pesos.
Exito frequently has sales on appliances, TVs and other electronics. Jumbo is another chain of big box stores like Exito that also frequently has sales. If you are furnishing a place, make sure to check out the sales at both Exito and Jumbo.
Falabella Department Store
Falabella is a large U.S.-style department store that sells a wide range of items including appliances, clothing, computers and electronics, furnishings, furniture, sports equipment and many other things. In addition, you can find many imported brands at Falabella.
Falabella is based in Chile and reportedly has over 90 department stores located in Argentina, Chile, Colombia and Peru.  In Colombia, Falabella has 25 stores located in 11 cities. And in Medellín, Falabella only three stores, which are located in the San Diego, Santafé and Arkadia malls.
Also, Falabella has its own credit card, CMR Falabella, with more than 5.5 million cardholders in Latin America.
You can sometimes find good prices on computers in Falabella. For example, I purchased an iMac in the San Diego Falabella store a few years ago for less than the cost for the exact same model listed on Apple's website at the time. The iMac was on sale and taxes and import duties don't apply to lower costs computers in Colombia.
Falabella is also a good place to buy higher thread-count sheets that can be difficult to find in most other stores in Medellín.
San Diego Food Options
San Diego Mall has several locations with food in the mall. There are over 25 fast food places and restaurants in the mall.
There is small food court in the on the first floor inside the entrance to the mall near the entrance to Falabella. There is a McDonald's here and a few other places. Inside the mall you will find a Frisby and a few other places to eat on the first floor.
On the second floor is a food court with over 20 fast food places including Kokoriko, Mis Carnes, Montolivo, Qbano, Sr. Wok, Subway and several others. And above this are a few restaurants on a small third floor.
On the first floor of the mall there is also a popular children's play area with a large sandbox. You'll typically see many parents here with their children.
How to Get to Centro Comercial San Diego
Centro Comercial San Diego is located in La Calendaria (El Centro) along Avenida Poblado a few blocks north of Premium Plaza mall.  The mall is also located on one of the access roads to the José Maria Córdoba Airport. Some expats I have met think San Diego mall is located in El Poblado, but it's actually in La Calendaria.
San Diego is easy to get to on the Medellín Metro. It's located about four blocks from the Exposiciones metro station on Line A. It's only about a five-minute walk east from the metro station to get to the mall.
Furthermore, any taxi driver in Medellín will know where San Diego mall is located. It's also typically easy to catch a taxi at the mall with a line of taxis usually lined up at the mall.
Also, if you drive, San Diego mall has over 1,400 parking spaces available.
In addition, the white shared airport taxis to José Maria Córdova Airport depart from the Texaco gas station that is next to San Diego mall. Furthermore, some of the airport buses from José Maria Córdova airport stop at a bus stop across the street from San Diego mall.
Address: Calle 33 # 42B-06, Medellín
Telephone: +57 (4) 448 0624
Website: http://www.sandiego.com.co/
Hours: For most shops in the mall the hours are Monday-Thursday: 10 am – 8 pm; Friday and Saturday: 10 am – 9 pm and Sunday: 11 am – 6 pm. But Exito and Falabella are open an hour later on Monday to Thursday and on Sunday. And the main food court on the second floor is typically open 30 minutes later than the regular shops.
The Most Popular Malls in Medellín
Several readers of Medellin Guru have asked for information about the malls in the Medellín metro area.
So, we have provided up-to-date guides to the 14 best and largest malls in the Medellín metro area in a series on this website:
Also, we included San Diego mall in our article about the 14 best malls in Medellín.
The Bottom Line: Centro Comercial San Diego
Centro Comercial San Diego is a nice mall that is considered a landmark since it's the oldest mall in the city. So, almost every local in the city knows where San Diego mall is located. And if you like open-air malls it's worth a visit.
One drawback of this mall is that doesn't have a movie theater. But the nearby Premium Plaza mall within walking distance has a movie theater.
Sign up for the Free Medellin Guru Newsletter – You can see all of the previous Medellin Guru weekly email newsletters and sign up here.
Editors note: updated on August 20, 2018 to reflect the change in Exito's frequent shopping program that has changed from Puntos Exito to Puntos Colombia.
Editors note: updated on October 6, 2018 to add the new Viva Envigado mall.
Editors note: updated on November 14, 2019 to add the Arkadia mall, which is the newest mall in Medellín.