Florida Parque Comercial is the largest and most popular mall in the Robeldo comuna of Medellín. The mall is very popular since it's the only Western-style mall in the northwestern part of Medellín.
The mall is one of the largest in the Aburrá Valley metro area with reportedly over 200 shops and 727,600 square feet (67,600 square meters) of space.
However, this large mall likely hasn't been discovered by many foreigners since it's located in Robledo. This is relatively far from the most popular neighborhoods for expats in the metro area including El Poblado, Laureles-Estadio, Envigado, Sabaneta and Belén. So, you will rarely hear English being spoken in this large mall.
I have only met a couple of foreigners living in Robledo that were attracted by lower living costs. One foreigner I met living there pays only 800,000 pesos per month for a nice two-bedroom apartment.
Robledo is the third largest comuna in Medellín with a population over 170,000. About 10 percent of the area in Robledo is designated as Estrato 4 or 5 neighborhoods, which are more the types of neighborhoods in Medellín where foreigners are more likely to live.
History of Florida Parque Comercial
Florida Parque Comercial originally opened in July 2013. Construction of the mall started in July 2011. So, the mall took two years to build.
The mall was reportedly built with an investment of about 100 billion pesos. And the shops in the mall employ about 2,000 staff.
The company that built the mall conducted research in 2010 and determined there were about 700,000 residents in 67 nearby barrios in northwestern Medellín that had to travel to Bello or El Centro to shop as there was no shopping mall in this area of Medellín.
The company also felt that other neighborhoods like El Poblado in Medellín were saturated with malls. So, they decided to build in an area that was clearly lacking a mall. And by December 2013, only five months after opening, the mall was 100 percent occupied by tenants.
This mall frequently has special events. For example, it is currently displaying many of the classic cars that were in the 2017 Desfile de Autos Clasicos (Classic Car Parade) as part of La Feria de las Flores in Medellín last year. So, if you didn't get a chance to see the classic cars in the parade last year they are on display in the mall.
The Shops in Florida Parque Comercial
The anchor tenants of the mall include Alkomprar, Agaval, Cinemas Procinal, Euro Supermercado, Fitness 29, Happy City and Jamar. In addition, the mall has over 200 shops and businesses of all types. The mall also has several outlet stores with good prices.
The shops and businesses in the mall include banks, male and female fashion, children's and youth clothing, footwear, jewelry, sporting goods, furniture and decoration, lingerie, opticians, restaurants and fast food places.
Also, there are shops in the mall for the three major cellphone providers in Colombia: Claro, Movistar and Tigo-UNE.
The banks in Florida Parque mall include Banco de Bogotá, Bancolombia, BBVA and Davivienda.
Alkomprar in Florida Parque
Alkomprar is similar to a small Best Buy and sells appliances, audio equipment, cellphones, computers, televisions, mattresses, motorcycles and other electronics. And they frequently have sales.
Most noteworthy, Alkomprar frequently has sales that are advertised in fliers. You can pick up the fliers in the stores and they also sometimes have people handing out their fliers in the malls.
Typically, the sales including some televisions with up to 40 percent off, some computers for up to 30 percent off, some appliances for up to 35 percent off and some cellphones for up to 40 percent off.
You can also find Alkomprar in several other malls in Medellín including Los Molinos, Mayorca, Puerta del Norte and San Diego. And in Rionegro there is an Alkomprar at San Nicolás mall.
Agaval in Florida Parque
Agaval is a large store that primarily sells major brand tennis shoes such as Adidas, Converse, LA Gear, Nike, Puma, Reebok and others at discounted prices. They also sell sports clothing, televisions, appliances and some other products. Due to having some good prices it's typically one of the most popular stores in the Forida Parque mall.
Agaval also has a shop in the La Central mall. And it has stand-alone stores in Bello, Itagüí, Junin and El Centro. However, the company also has smaller Sport brand stores in other malls in the area like Los Molinos, Mayorca, Santafé, San Diego and Unicentro.
Movies at Cinemas Procinal in Florida Parque
Cinemas Procinal's movie theater in the mall has seven screens. Furthermore, you can see the schedule of movies on the Cinemas Procinal website.
Cinemas Procinal is a movie theater chain with movie theaters in eight cities in Colombia. It has movie theaters in Apartadó, Barrancabermeja, Bogotá, Cartagena, Rionegro, Medellín, Santa Marta and Villavicencio.
In Medellín Cinemas Procinal has movie theaters in Aventura, Aves Maria, Florida Parque, La Central, Las Américas, Mayorca, Monterrey and Puerta del Norte.
Also, Cinemas Procinal has a frequent moviegoer card. With this card, you can buy movie tickets at discounted rates. In addition, you can receive discounts on food and beverages.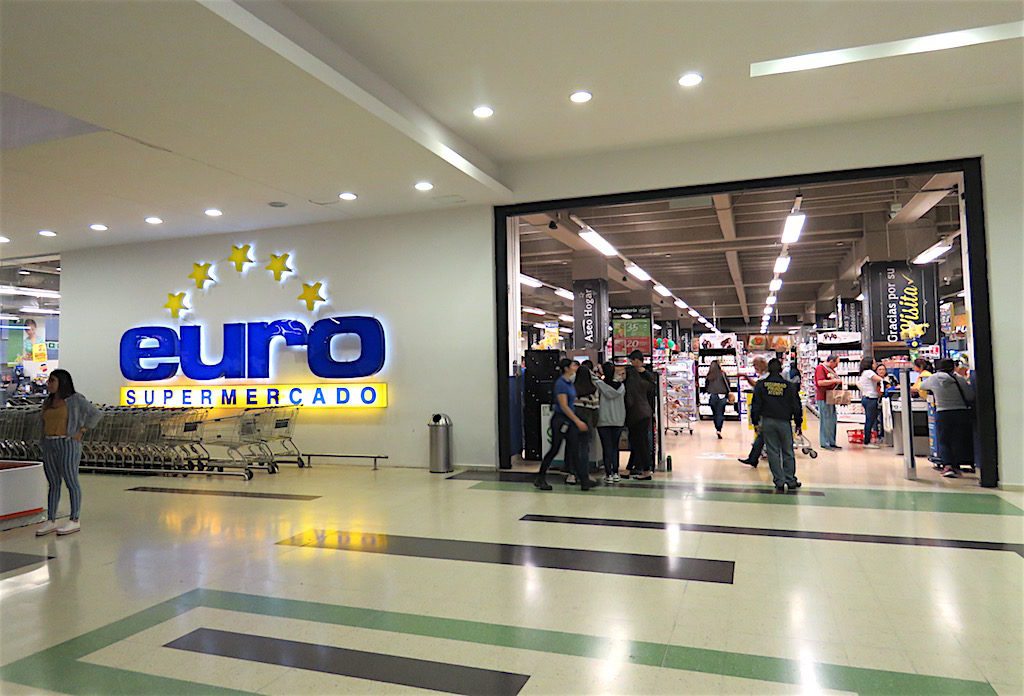 Euro Supermercado in Florida Parque
Euro Supermercado is one of the grocery store chains you can find in Medellín. The Euro grocery chain was founded in 2001 with its first store in Central Mayorista in Itagüí.
There are several other Euro grocery stores in the metro area including two in Envigado, one in El Pobaldo, one in Laureles, two in Belén, one in Sabaneta, one in Bello and one in Central Mayorista in Itagüí.
Happy City in Florida Parque
For kids and families there is also a Happy City in Florida Parque Mall on the second floor. Happy City is a chain of arcades in Colombia with all kinds of games for kids and families.
Happy City is a Colombian company that was formed to produce, promote and market recreation spaces for children and families. Since 1982, Happy City has manufactured, marketed and administered family recreation spaces in Colombia. And Happy City belongs to the IAAPA (International Association of Amusement Parks and Attractions).
Happy City has locations in several malls in Medellín including Forida Parque, La Central, Mayorca, San Diego, Santafé and Viva Envigado.  And they have additional locations in many other cities in Colombia.
Florida Parque Mall Food Options
Florida Parque has several locations in the mall with food options. And there are over 30 fast food places and restaurants in the mall. There are two food courts on the first and second floors. In addition, there are some sit-down restaurants located on the second floor.
Fast food options include Frisby, KFC, Kokoriko, Mis Carnes, Montolivo, Qbano, Sr. Wok and Subway.
Restaurants in the mall include Ay Caramba, Crepes & Waffles, Fogón & Lena, Il Forno and J&C Delicias.
How to Get to Florida Parque Comerical
Florida Parque Mall is located in Robledo near the Cerro de Volador (Volador Hill), which is a huge park with nice views of Medellín.
The two nearest metro stations are Universidad and Hospital. It's a relatively short taxi ride to the mall from either metro station. And there is bus route 254 from the Hospital station that goes by the mall.
Furthermore, most taxi drivers in Medellín will know where this mall is located. And it's also fairly easy to catch a taxi at the mall with usually several taxis lined up in front of the mall.
Website: http://www.floridapc.co/
Address: Calle 71 # 65-150, Robledo, Medellín
Telephone: +57 (4) 520 2880
Hours:  Monday – Saturday: 11 am – 9 pm; Sunday and Holidays: noon – 9 pm.
The Most Popular Malls in Medellín
Several readers of Medellin Guru have asked for information about the malls in the Medellín metro area.
So, we have provided up-to-date guides to the 14 best and largest malls in the Medellín metro area in a series on this website:
Also, we included Florida Parque in our article about the 14 best malls in Medellín.
The Bottom Line: Florida Parque – the Most Popular Mall in Robledo
Florida Parque Comercial is a nice mall with a Cinemas Procinal for movies, a Euro for groceries and many fast food and restaurant options. In addition, it has big selection of shops with over 200 shops. Also, it's the largest and most popular mall in the Robledo comuna.
However, it's mainly a local mall with customers that are usually from the nearby area. It's not really a destination mall like Santafé or El Tesoro malls in El Poblado or Mayorca Mega Plaza in Sabaneta.
Sign up for the Free Medellin Guru Newsletter – You can see all of the previous Medellin Guru weekly email newsletters and sign up here.
Editors note: updated on October 6, 2018 to add the new Viva Envigado mall.
Editors note: updated on November 14, 2019 to add the Arkadia mall, which is the newest mall in Medellín.