Mayorca Mega Plaza is a popular mall in the Medellín metro area with several outlet shops. This mall located in Sabaneta is very popular, as the prices in stores in the mall can be lower than are found in the large malls in El Poblado.
Since it is possible to find substantial savings in this mall, it can be a good place to do some Christmas shopping.
Mayorca mall historically has reportedly had some of the highest sales per square meter out of the malls in Medellín. In addition, this mall was so popular that it was expanded in November 2015 with a large expansion into a second sizable building. So, it's like two malls in one with an old phase and a new phase.
The major mall expansion added 78,500 square meters of commercial space (over 840,000 square feet) in over 250 stores, which brought the total count of stores in the mall to over 400.
Note the above photo shows Mayorca mall with the pedestrian bridge from the Itagüí metro station.
Most noteworthy, the new expansion phase is located in a new building with four floors of shopping. The expansion is connected to Mayorca via two pedestrian bridges across Avenida Las Vegas. In addition, shortly after the expansion opened the majority of the spaces in the expansion space were already leased.
History of Mayorca Mall
The shopping mall was originally built in 2002. It was built in response to the need for a shopping mall in the southern part of the Medellín metro, which at the time didn't have a mall.
The mall originally opened in November 2002 with just 80 shops initially. And these shops ranged in size from 60 to 700 square meters. In addition, it had 500 parking spaces. In September 2006, the mall building was expanded to add a movie theater, gymnasium, bank branches, a food court and 120 additional shops.
On November 2015, a major expansion of Mayorca opened in a building located across Avenida Las Vegas. This is a 12-story building with the first four floors with commercial shopping spaces.
The fifth floor is a large open recreation area used for events as well as several restaurants. On the sixth floor are some additional restaurants and the movie theater screens. From the eighth to 12th floors are offices used as medical offices and Universidad EAFIT offers some language classes.
As a result of opening the new phase of the mall in late 2015, there are now a total of over 400 commercial locations in the mall.
Mayorca Ready for Christmas
Each year Mayorca mall sets up the fifth floor of the new phase with a large Christmas tree.
Most noteworthy, in 2017 they even added a small skating rink for Christmas.
Also in other parts of the mall you can find additional Christmas displays. For example, in one section of the new phase in 2017 there was a live Santa with a sled to enable taking photos with Santa.
Shops in Monterrey Mall
The anchor tenants in Mayorca mall include Alkomprar, Bolera Mayorca, Cinemas Procinal, Exito, Flamingo, Home Sentry and Jamar.
There are about 400 stores in this mall including several outlet stores that are located in the older phase of the mall. It is possible to find good deals in several of these outlet stores.
For example, the Rifle outlet store currently has a promotion sale which is to buy two jeans for 139,900 pesos ($47) or three jeans for only 179,900 pesos ($60).
In this large mall, you can find stores selling electronics, eye-care, clothes, home furnishings, mattresses, pharmacies, shoes, toys and several other categories.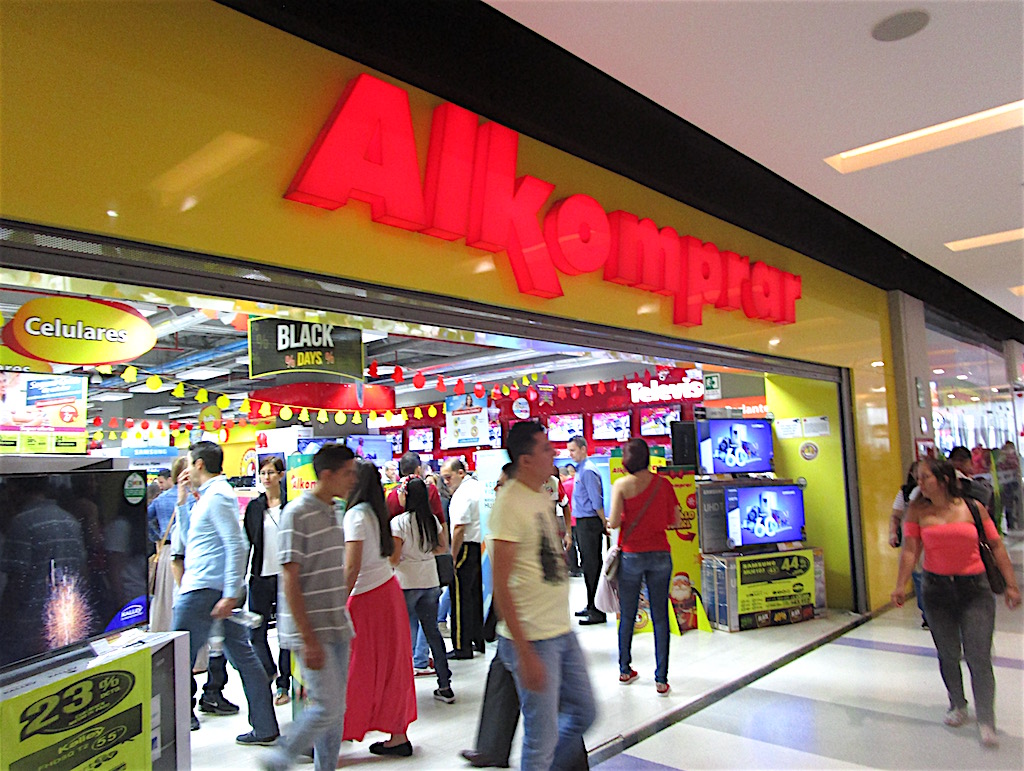 Alkomprar in Mayorca
Alkomprar is like a small Best Buy selling appliances, audio equipment, cellphones, computers, televisions, mattresses, motorcycles and other electronics. And they frequently have sales.
Most noteworthy, Alkomprar frequently has sales that are advertised in fliers. You can pick up the fliers in the stores and they also sometimes have people handing out their fliers in the malls. Typically the sales including some televisions with up to 40 percent off, some computers for up to 30 percent off, some appliances for up to 35 percent off and some cellphones for up to 40 percent off.
You can also find Alkomprar in several other malls in Medellín including Florida Parque, Los Molinos, Puerta del Norte and San Diego. And in Rionegro there is an Alkomprar at San Nicolás mall.
Bowling at Bolera Mayorca
Bolera Mayorca is the newest bowling alley in the Medellín area that reportedly opened in Mayorca mall in August 2018.
Bolera Mayorca has 16 lanes, which are located on two floors and split into four groups with four lanes each. This bowling alley is conveniently located on the fifth floor of the older phase of Mayorca mall.
Bolara Mayroca also has an integrated Sports Wings, which provides food and drinks. Sports Wings is a chain of sports bars in Medellín that has some good wings and other good bar food. Also, there is a second Sports Wings in Mayorca mall in the new phase of the mall.
We also have a detailed guide to all four bowling alleys in Medellín.
Movies at Cinemas Procinal in Mayorca
Cinemas Procinal's movie theater in the mall has seven screens. And Cinemas Procinal is located in the new phase of the mall. Furthermore, you can see the schedule of movies on the Cinemas Procinal website.
Cinemas Procinal is a movie theater chain with movie theaters in eight cities in Colombia. It has movie theaters in Apartadó, Barrancabermeja, Bogotá, Cartagena, Rionegro, Medellín, Santa Marta and Villavicencio.
In Medellín Cinemas Procinal has movie theaters in Aventura, Aves Maria, Florida Parque, La Central, Las Américas, Mayorca, Monterrey, Puerta del Norte.
Also, Cinemas Procinal has a frequent moviegoer card. With this card, you can buy movie tickets at discounted rates. In addition, you can receive discounts on food and beverages.
Exito Supermarket in Mayorca
Exito is a large supermarket chain in Colombia that also sells appliances, electronics, clothes, home furnishings, kitchen items, and many other things.  An Exito is similar to a Walmart in the US.
Exito has 26 of its large grocery stores in the Medellín metro area. It also has some smaller Exito local markets and Exito also owns the Carulla grocery store chain, which has several locations in Medellín.
If you shop frequently at Exito and/or Carulla you should sign up for Puntos Colombia, which is a program that used to be known as Puntos Exito. Puntos Colombia is a frequent shopper program where you accumulate points for each purchase. You can use these points to purchase items in the future.
To sign up for Puntos Colombia you just need a Colombian cedula ID. And it's essentially like getting 1 percent cash back on your purchase that you can use for future purchases. With the program you get 1 punto for every 700 pesos in purchases. And that 1 punto is worth 7 pesos.
Exito frequently has sales on appliances, TVs and other electronics, which are similar to the sales at Jumbo. If you are furnishing a place, make sure to check out the sales at both Exito and Jumbo.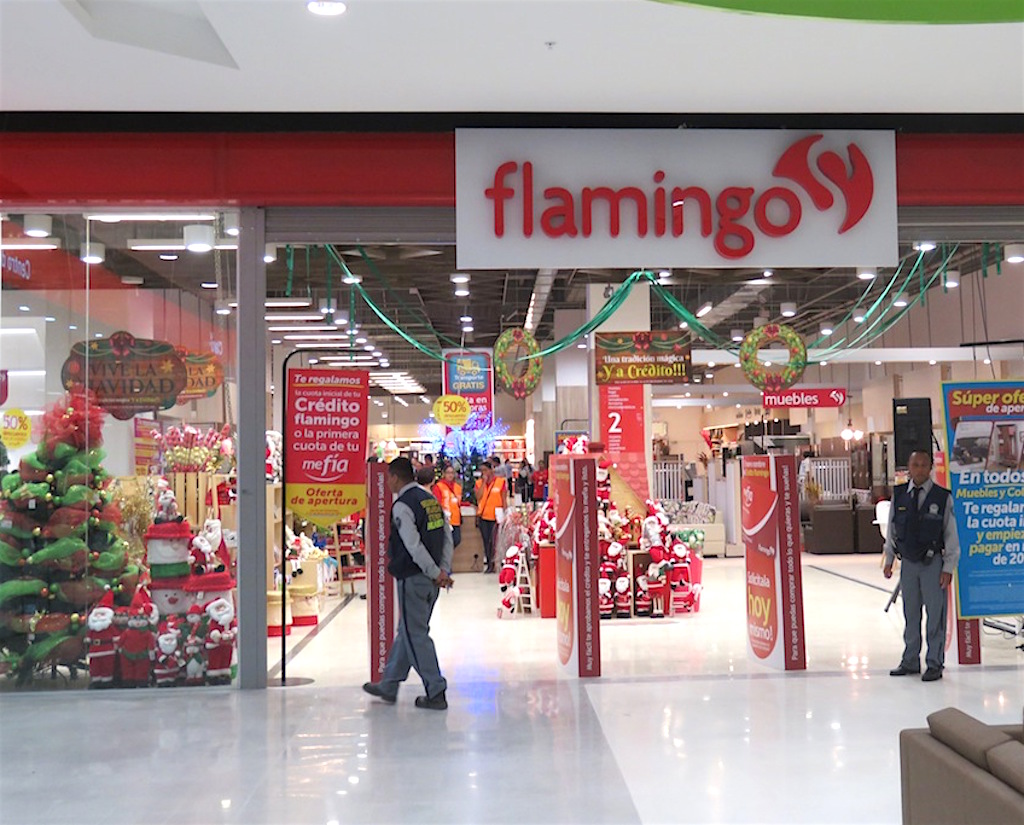 Flamingo in Mayorca
Flamingo is a department store that sells a wide range of items including appliances, clothing, electronics and furniture. In addition, Flamingo has five other stores in the Medellín metroplex with three located in El Centro, one in the Puerto del Norte mall and one in the La Central mall.
Flamingo also has additional stores in Colombia located in Armenia, Bogotá, Ibagué, Itagüí, Monteria, Pereira, Piedecuesta, Rionegro, Sincelejo, Soacha, Soledad and Valledupar, Villavicencio.
Home Sentry in Mayorca
Home Sentry is similar to a Bed, Bath and Beyond store in the U.S. But it also sells some furniture, toys and tools. In my experience, Home Sentry has some good prices and it sometimes has sales.
The Home Sentry store in Mayorca is the company's only store in Medellín. And the company has 11 additional stores in Colombia located in Bogotá (5 stores), Barranquilla, Bucaramanga, Cali, Cartagena, Chía and Villavicencio.
Mayorca Food Options
Mayorca has several locations with food in the mall. There is a food court in the initial phase of the mall and a second larger food court in the new phase of the mall.
There are over 40 restaurants and fast food places in the mall. You can find several U.S.-based fast food options located in Monterrey including Domino's Pizza, Dunkin' Donuts, KFC  and Subway. Also, you will find many typical Medellín fast food options like Dogger, Frisby, El Corral, Kokoriko, Qbano and Sarku Japan.
In addition, on the fifth and sixth floors of the new phase of the mall you will find several restaurants. This includes Chef Burger, Crepes & Waffles, Il Forno, Milagros, Nino Pastiono, Parmessano and Sport Wings. There is also a Crepes & Waffles in the old section of the mall on the ground floor.
How to Get to Mayorca
Mayorca is located in Sabaneta at the northern edge of this separate municipality in the Medellín metro area.
Mayorca is easy to get to as it is located next to the Itagüí metro station on Line A of the Medellín metro. And it's a very short walk to Mayorca Mega Plaza via a pedestrian bridge. Itagüí station is only about a 10-minute ride on the metro from the Poblado metro station.
From many places in Sabaneta there are small metro buses that take you directly to Mayorca mall and the Itagüí metro station for only 2,200 pesos.
Furthermore, any taxi driver in Medellín knows where Mayorca mall is located. It's also relatively easy to catch a taxi at the mall with a taxi stand near the Itagüí metro station.
Also, if you drive, Mayorca has free parking and the mall has about 1,000 parking spaces in the new phase of the mall.
Address: Calle 51 Sur # 48 – 57, Sabaneta
Telephone: +57 (4) 373 0335
Website: http://www.mayorca.com.co/en/
Hours: Monday-Saturday: 10 am – 9 pm; Sunday and Holidays: 11 am – 8 pm
The Most Popular Malls in Medellín
Several readers of Medellin Guru have asked for information about the malls in the Medellín metro area.
So, we have provided up-to-date guides to the 14 best and largest malls in the Medellín metro area in a series on this website:
Also, we included Mayorca Mega Plaza in our article about the 14 best malls in Medellín.
The Bottom Line: Shopping at Mayorca
Mayorca has always been a popular mall with many shops with good prices. And the large expansion in late 2015 made this mall even more popular. Furthermore, this mall is normally very busy every weekend. Also, it is very convenient to get to, as it is located right next to the Itagüí metro station.
Seems like during the Christmas shopping season this mall is very busy every weekend. For example, it was extremely busy this past weekend.
The mall is also convenient as it has an Exito for groceries, a Cinamas Procinal movie theater, two food courts, several shops with good prices and several good restaurants.
I currently live in Sabaneta. And since Mayorca is in north Sabaneta I found that I rarely need to go to El Poblado to shop in the malls there. Seems like I can find most things I need at Mayorca mall and usually for lower prices.
Sign up for the Free Medellin Guru Newsletter – You can see all of the previous Medellin Guru weekly email newsletters and sign up here.
Editors note: updated on August 20, 2018 to reflect the change in Exito's frequent shopping program that has changed from Puntos Exito to Puntos Colombia.
Editors note: updated on October 6, 2018 to add the new Viva Envigado mall.
Editors note: updated on December 17, 2018 to add Bolera Mayorca, the new bowling alley at Mayorca mall.
Editors note: updated on November 14, 2019 to add the Arkadia mall, which is the newest mall in Medellín.