Once a foreigner receives a Migrant (M) or Resident (R) visa or a few types of Visitor (V) visa, some family members of this foreigner become eligible for a Colombia beneficiary visa. Follow our guide to obtain a Colombia beneficiary visa, which is updated for 2023.
The Colombia beneficiary visa is intended for foreigners who are economic dependents and family members of another foreigner who has a M or R visa or a few types of V visa.
Several questions have been received from readers of the Medellin Guru site about visas for relatives. So, we now cover the Colombia beneficiary visa.
As a general rule, spouses and permanent companion children under 25 years of age or older, when they have a disability that prevents them from being economically independent, may apply for the beneficiary visa.
For example, if a foreigner receives a Migrant investor visa, his spouse, children (under age 25) become eligible for a Colombia beneficiary visa.
All the M and R visas listed in our article about Colombia visas are eligible for being used to get beneficiary visas. Also, the Visitor (V) visas in the following categories are eligible for beneficiary visas:
Religious, to work in the exercise of a religious ministry, or to work as a missionary of a religious entity duly recognized by the Colombian State.
Volunteer, To carry out volunteer work of a social or development cooperation nature. It may be granted to beneficiaries of its primary holder only when considered fully justified.
Digital Nomad, for those working remotely from Colombia.
Permanent Correspondent, To work in Colombia as a permanent press correspondent for a foreign media.
Entrepreneurs FTA, To facilitate the mobility of entrepreneurs or business people in the application of commitments acquired by Colombia in the framework of Free Trade Agreements signed and in force with other States.
Non-accredited officers, To serve as a commercial representative officer of a government of a foreign state or territory, or of a specialized government agency, on a mission that does not involve accreditation. 
In addition, these Colombia beneficiary visas are relatively easy to get. But holders of a beneficiary visa are not permitted to work in Colombia.
Colombia changed its Colombian visa rules, which went into effect on October 21, 2022.
Has the visa process changed in Colombia due to the new Resolution 5477?
According to ExpatGroup, the visa agency we partnered with, tells us that with the new resolution, the government has introduced new application requirements, in addition to having eliminated some visas, such as the M student visa, and changed the category, for example, the R type visa for Colombian child, it is now M category.
The visa agency we partnered with has helped many foreigners obtain visas during the pandemic including retirement visas, marriage visas, student visas, investment visas and resident visas.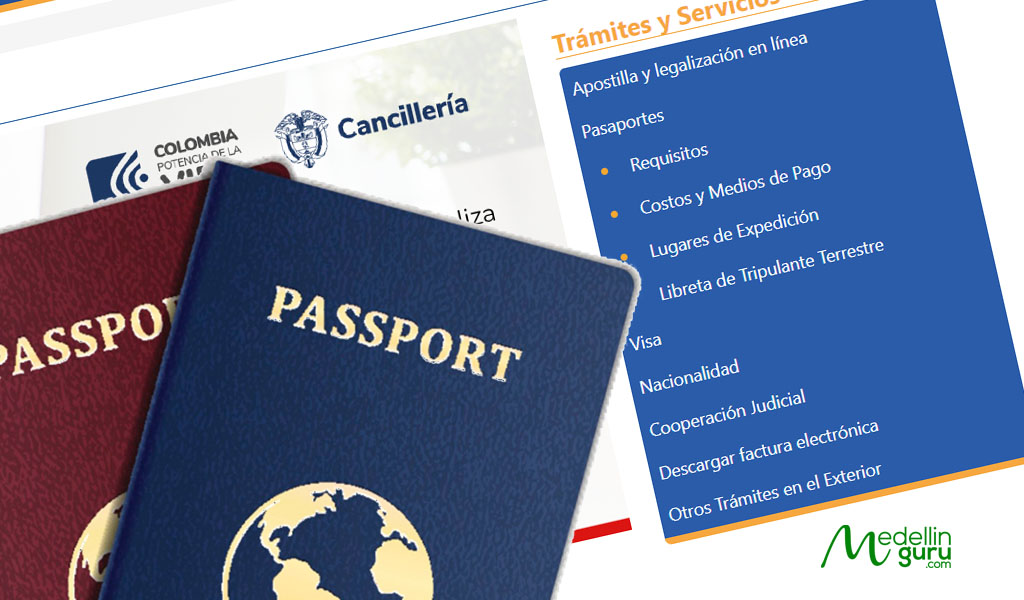 How to Apply for a Colombia Beneficiary Visa
You can apply for a Colombia beneficiary visa online. In addition, you can obtain Colombian visas at Colombian consulates around the world. In the U.S., Colombia has consulates located in Atlanta, Boston, Chicago, Houston, Los Angeles, Miami, Orlando, Newark, New York, San Francisco, and Washington DC.
The Colombian visa process is fairly easy as it's done online. You can apply for a Colombia visa online here. This application will require scans of all required documents in PDF files plus the photo in jpg format. In addition, a detailed guide for applying online is found here.
Visas in Colombia are issued by the Ministerio de Relaciones Exteriores. Since the coronavirus, all visas are issued electronically, so you do not have to travel to Bogota for the stamp.
I successfully obtained three Colombian visas that I applied for my own in the past that were good for a total of five years. But the biggest challenge with doing a Colombian visa yourself is not benefiting from the experiences of a visa agency, which has processed hundreds of visas and knows exactly what is needed for each type of visa.
Also another big benefit of using a visa agency is that they help you gather all the information and documents necessary for the student visa application. The cost of the service includes immigration advice, visa application, visa registration, and application for a foreigner identification card.
So, for my latest visa received in 2018, a Colombia resident visa, I used a visa agency. And I found the experience painless and now highly recommend using a visa service over doing a Colombia visa application yourself. The bottom line is with a visa agency you are less likely to run into problems and you can avoid a trip to Bogotá.
Medellin Guru
Visa Service
The visa agency we partnered with has helped 800 Medellin Guru reader
Documents Required for the Colombia Beneficiary Visa
Documents required for the beneficiary visa include:
Medellin Guru
Insurance Service
Medellin Guru partnered with an insurance agent to offer Colombian insurance services to foreigners including health insurance, auto insurance, homeowners' insurance, travel insurance and life insurance.​
Using a Visa Agency for a Colombia Retirement Visa

If you are in Colombia and not located in Bogotá and you don't want to travel, you can use a visa agency to obtain a Colombia student visa. A visa agency can handle the online application. 
Medellin Guru has partnered with what we believe is the best visa agency in Medellín to offer Colombia visa services. Features of this service include:
Online chat – get visa questions answered fast.
Online quotes – get immediate visa quotes.
Bilingual Team
Office in El Poblado in Medellín.
Competitive price compared to other visa services.
The Medellin Guru visa service partnership was launched in March 2019. And in 47 months, 744 visas have been successfully received by clients including 10 beneficiary visas.
Also, our visa service renewed 112 American passports in Bogotá using our passport renewal service. In addition, 28 clients extended tourist visas using our tourist visa extension service.
So, in total we had 884 clients of the Medellin Guru visa service in 47 months.
In addition, many more visas are in process – short, medium or longer term, depending on client needs.
We reviewed all the Colombia visa agency services in Medellín and found one agency that offers a more efficient visa service with more features and more comprehensive communications including online chat, WhatsApp, videocall, email, and phone, plus a low price and a convenient office in El Poblado.
Our visa partnership is an affiliate relationship (like the Amazon affiliate program). If you use our visa partner, Medellin Guru receives a small commission and you support the website. This is at no additional cost to you. The price remains the same, whether you use a button or affiliate link on this website or not.
Furthermore, the visa agency we partnered with offers visa services anywhere in Colombia. So, if you are located in another city in Colombia you can use this service.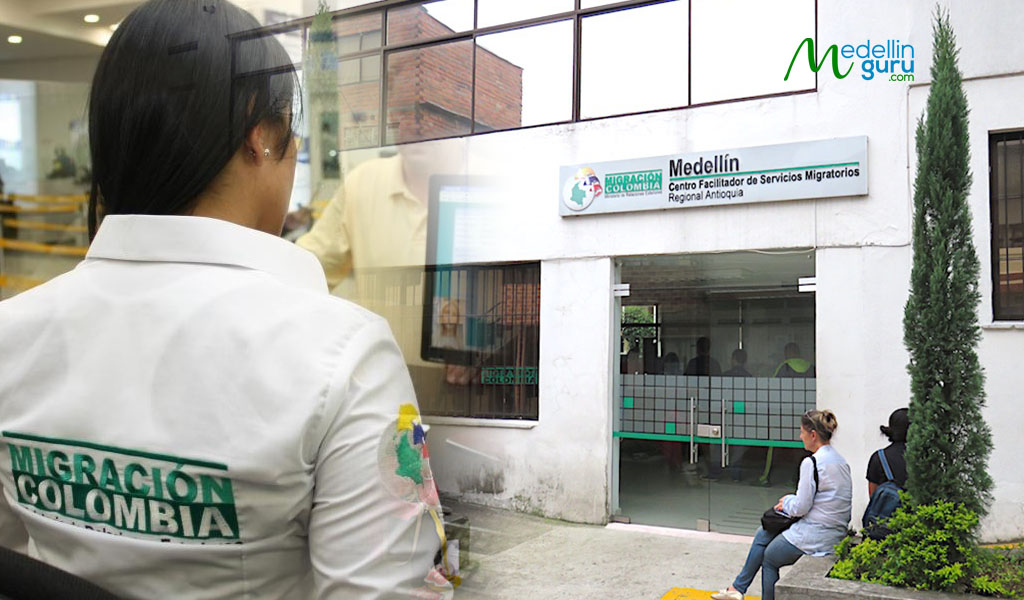 Getting a Colombian Cedula 
After you have successfully received your Colombia beneficiary visa, you have a maximum of 15 calendar days to register your visa with Migración Colombia to get a Cedula de Extranjeria (Colombian ID for foreigners). Or if you received your visa at a consulate, you will have 15 calendar days after you arrive in Colombia to register your visa.
Due to being photographed and fingerprinted this must be done in-person at a Migración Colombia office.
Especially relevant, it is very important to register your Colombian Beneficiary visa within the allotted time frame. If not, you will be liable for a big fine of up to seven times the minimum monthly salary in Colombia. The minimum salary in Colombia is $1,160,000 COP per month in 2023. So, the fine is up to 8,120,000 COP pesos in 2023.
To register your visa and apply for a cedula this must be done at one of the Migración Colombia offices. You can find Migración Colombia offices in major cities in Colombia.
Barranquilla – Carrera 42 # 54-77, Barrio El Recreo
Bogotá – Calle 100 #11B-27
Cali – Avenida 3 norte # 50N-20
Cartagena – Carrera 20 B # 29-18, Barrio pie de la Popa
Medellín – Calle 19 #80A-40, Barrio Belén (the entrance is on the other side of the building on Calle 19A)
A complete list of the Migración Colombia offices is found here.  In addition, we have an up-to-date guide to applying for a Cedula Extranjeria in Colombia. 
Medellin Guru's Comprehensive Visa and Passport Series
The Bottom Line: Obtaining a Colombia Beneficiary Visa
Colombia's beneficiary visa is relatively easy to get with few documents needed. But the beneficiary visa requires a relative to first obtain a Migrant (M) or Resident (R) visa or a few types of Visitor (V) visa.
The visa costs in Colombia are lower than in many other countries in Latin America. Also, the Colombian visa process is streamlined with online applications and is relatively fast.
The visa agency we partnered with has helped 644 Medellin Guru readers obtain visas including 5 beneficiary visas, over 600 other types of visas and U.S. passport renewals.
Medellin Guru
Visa Service
The visa agency we partnered with has helped 800 Medellin Guru reader
Editors note: updated on February 28, 2023 with updated information regarding new visa rules. 
Editors note: updated on June 28, 2023, with new images.