El Sombrero is a popular Mexican restaurant in Sabaneta with authentic and really good Mexican food. A Mexican owns the restaurant and the cooks reportedly are Mexican as well. So, this restaurant has very authentic traditional Mexican food.
El Sombrero is a family run business that opened in 2008. So, it's been in business for 10 years. It's a popular restaurant in Sabaneta with locals. And it is considered to have the best Mexican food in Sabaneta. Also, it's the 5th highest rated restaurant in Sabaneta on TripAdvisor.
El Sombrero actually has two sections. One is the restaurant and the other is a "factory" where they make Mexican food products. So, the products used in the restaurant are made locally.
The restaurant's slogan is "Colores y sabores de México" (Colors and Tastes of Mexico). The inside of the restaurant is very colorful similar to what you find in Mexico and the food is authentic Mexican food. So, it delivers on its slogan.
My Experiences at El Sombrero
Since I live in Sabaneta and like Mexican food, I have eaten at this Mexican restaurant many times. So far in my experience, everything I have tried at this restaurant was well-prepared and the food has been very good.
Furthermore, I like hot sauces and they have three good Mexican sauces at each table in the restaurant: picante (hot), extra picante (extra hot) and muy picante (very hot).
El Sombrero has many regular local customers. Also, some expats in the Medellín area have discovered this Mexican restaurant in Sabaneta due to it having some very good Mexican food.
In addition, there is free Wifi available in the restaurant. So, I sometimes have "working" lunches at this restaurant.
The Food Menu at El Sombrero
El Sombrero is a Mexican restaurant with many traditional Mexican food options on the menu including:
8 different enchilada dishes priced from 22,900 to 26,900 pesos
8 types of quesadilla dishes for 17,900 to 22,900 pesos
11 types of burritos for 17,900 to 25,500 pesos
8 different types of quesadillota dishes for 22,900 to 24,900 pesos
8 different types of burros for 23,900 to 25,900 pesos
2 different types of taco salads for 18,900 and 20,900 pesos
8 types of chimichangas for 18,900 to 21,900 pesos
3 types of tostadas for 18,900 to 22,900 pesos
4 different types of tacos (with 3 tacos) for 14,500 pesos each
4 types of flautas (with 3) for 14,500 pesos each
3 types of nachos for 16,500 to 20,500 pesos
4 different types of fajitas for 19,900 to 24,900 pesos
Also, on the menu are several special dishes including combos for 20,900 to 30,900 pesos. And there is a family dish for 55,500 pesos and two different dishes for two people for 35,900 and 39,900 pesos.
In addition, the restaurant has five different appetizers on the menu for 10,900 to 13,500 pesos.  Also, there are three different dishes for kids for 6,500 to 10,900 pesos.
Finally, there are a few desserts available for 8,500 pesos each.
The Drink Menu at El Sombrero
El Sombrero has a relatively small drink menu. There are 12 beers on the menu for 4,500 to 8,000 pesos. And there are three micheladas on the menu for 8,500 to 11,000 pesos.
Since it's a Mexican restaurant there are six different tequila cocktails for 18,500 to 22,900 pesos. And they sometimes have some drink specials of buy 1 get 1 free. Also, a bottle of tequila costs 120,000 pesos and a tequila shot is 12,000 pesos.
For non-alcoholic drinks they have waters, sodas and juices for 3,500 to 6,000 pesos.
How to Get to El Sombrero
El Sombrero is located in Sabaneta. It's only about three blocks from the popular Parque Sabanta and Iglesia de Santa Ana. Also, El Sombrero is about four blocks from Restaurante El Viejo John and Pizza en Leña.
The nearest Medellín Metro station is the Sabaneta station on Line A, which is located about a 10-minute walk from the restaurant.
But you can take a taxi from the metro station to this Mexican restaurant, which will be a minimum fare of 5,500 pesos. Or there are metro buses from the metro station to nearby Parque Sabaneta for only 2,100 pesos and the restaurant is three blocks from the park.
Also, you could travel via taxi or Uber to the restaurant from your location in the metro area. Just provide the taxi driver the address below.
Website: https://www.facebook.com/ElSombreroComidaMexicana/
Address: Carrera 43C # 66Sur-27, Sabaneta
Phone: +57 4 301 9182
Hours: Tuesday to Thursday and Sunday: noon to 10:00 pm, Friday and Saturday: noon to midnight, Monday: closed.
The Best Mexican Restaurants in Medellín and the Aburrá Valley
So far on the Medellin Guru website we have looked at six of the best Mexican restaurants in Medellín and the Aburrá Valley: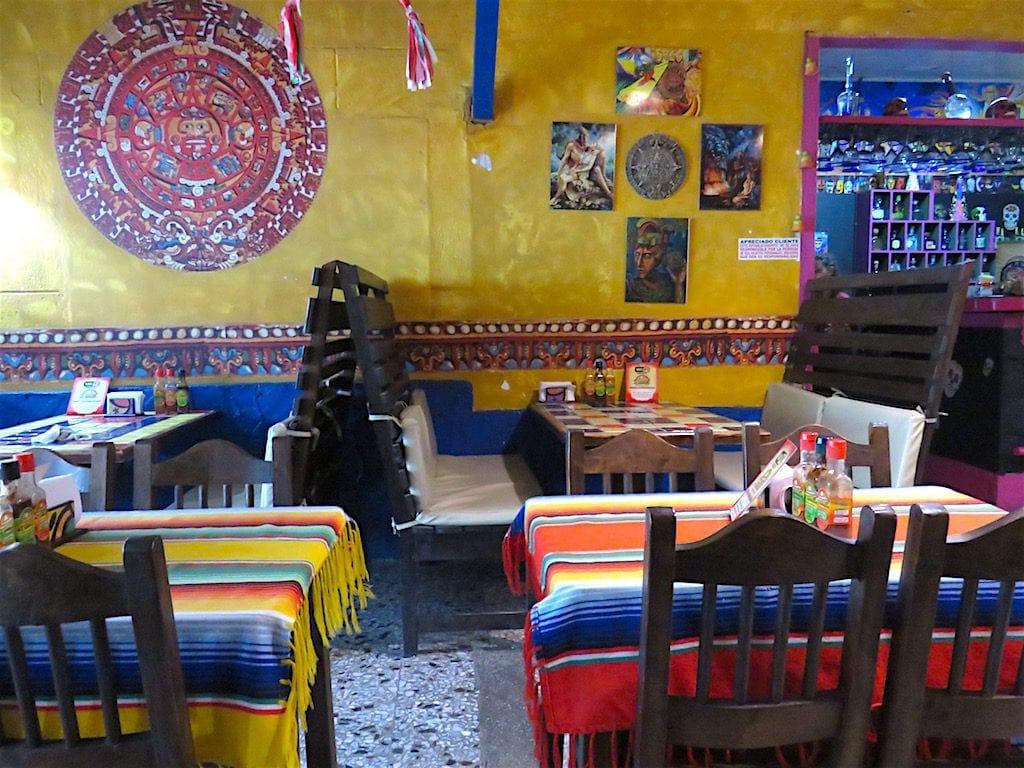 Tables inside El Sombrero restaurant in Sabaneta
The Bottom Line: El Sombrero: Authentic Mexican Food in Sabaneta
Since the owner is Mexican, El Sombrero has some authentic and very good Mexican food. In my experience, authentic Mexican food is difficult to find in the Medellin metro area.
Also, I am from Texas and have visited Mexico many times. And I like good and authentic Mexican food. So, El Sombrero has become one of my my favorite Mexican restaurants in the Medellín metro area.
If you are visiting the popular Parque Sabanta in Sabaneta, El Sombrero is a good choice only three blocks away if you are craving some good traditional Mexican food. If you like authentic Mexican food I recommend this restaurant.
Sign up for the Free Medellin Guru Newsletter – You can see all of the previous Medellin Guru weekly email newsletters and sign up here.