Parque Los Nevados, also known as Parque Nacional Natural Los Nevados (Los Nevados National Natural Park), is a popular national park in Colombia located in the heart of the coffee region in Colombia. It's a beautiful park known for its snow-capped volcanoes, glaciers, lakes and forests.
Parque Nacional Natural Los Nevados is the third most popular national park in Colombia after Parque Nacional Natural Corales del Rosario and Parque Nacional Natural Tayrona. In 2016, Parque Los Nevados reportedly had 39,904 visitors.
Parque Los Nevados is located in the Central Andes, which is the highest of the three branches of the Colombian Andes. The park was created in 1973 in order to help contribute to the conservation of important ecosystems such as three of the glaciers in Colombia, high Andean wetlands and high Andean forests.
This sizeable national park covers an area of 144,062 acres (58,300 hectares) with a range of altitudes between 8,500 feet (2,600 meters) and 17,457 feet (5,321 meters). And temperatures are normally between 26.6 °F (-3 °C) and 57.2 °F (14 °C).
Parque Los Nevados is located in the heart of Colombia's coffee growing region. The rivers that descend from its snow peaks supply water to the farmlands and aqueducts of cities, towns and villages in the center of Colombia. Also, one of the main beneficiaries is, of course, the many coffee plantations in the area.
In addition, the park is packed with biodiversity with about 4,000 different species of vegetation, as well as glaciers, volcanos, lakes and forests.
My Experience Hiking to Nevado Santa Isabel in Los Nevados
Nevado Santa Isabel is one of eight volcanoes located in Parque Nacional Natural Los Nevados. Among the eight volcanoes in the park, three are glaciers including Santa Isabel.
The snow cap volcano of Nevado Santa Isabel is one of the six surviving glaciers in Colombia. The last eruption of the volcano occurred more than 8,000 years ago. Santa Isabel is one of the last tropical glaciers in the world.
The summit of Santa Isabel, at an altitude of 16,289 feet (4,965 meters), has become particularly sensitive to the increase in atmospheric temperature. In the coming 10-20 years, the glacier is expected to experience drastic changes.
The relatively low altitude has permitted scientists to study glacial dynamism, otherwise not possible anywhere else in the country.
For my hike to Santa Isabel, I used the local tour company Ecosistemas Travel, which was top-class in my experience. The cost is 200,000 pesos per foreigner or 180,000 pesos per Colombian citizen in a group.
1. Start in Manizales at 4:30 am – 7,086 feet (2,160 meters)
The hiking experience starts at 4:30 am in Manizales, where the Ecosistemas Travel team will pick you up at your hotel.
You will then have a quick briefing about the precautions to take, grab a coffee and head towards the park in a most necessary 4X4 vehicle. And at 5:20 am, we departed.
2. Breakfast at 6:45 am – 7,694 feet (2,345 meters)
We stopped for a quick breakfast on the way. And at 7:15 am we departed for Parque Nacional Natural Los Nevados. 
On the way, we encountered many breath-taking landscapes…
3. Parque Los Nevados Entrance at 9:00 am – 13,451 feet (4,100 meters)
We arrived at the entrance of the park and the start of our hike. We will hike for the next 6 hours at a minimum. The hike is classified mid-difficult.
While in our 4X4 vehicle, with windows opened, we had already started to get acclimatized by the difference of elevation and oxygen level.
4. Santa Isabel Glacier at 1:00 pm – 15,419 feet (4,700 meters)
We hiked for the past four hours, sometimes slowly, to reach the glacier. We are all tired, but we finally made it… It's cold, raining, but who cares?
What Else to See in Parque Los Nevados
Parque Los Nevados is a very large park with many things to see. But it would take several days to go to several of the top things in the park. And some things are only possible to see via a multiple day hike/climb.
Here are three other top things to see in the park:
Nevado del Ruiz – is the volcano closest to Manizales and it's still active. And from Manizales, you can sometimes see this volcano smoking on a clear day. It's the highest peak in the park with a height of 17,457 feet (5,321 meters).
An eruption of this volcano in 1985 caused Colombia's worst-ever natural disaster. The lahar (residue and debris) that raced down from the volcano destroyed the small town named Armero in its path – leaving only about a quarter of its 28,700 residents alive.
Unfortunately, you currently aren't allowed to go to Nevado del Ruiz in the park due to Geológico Colombiano declaring the volcano at yellow level (Level III) activity. In the past, there have been day trips available to Nevado del Ruiz from Manizales.
Nevado del Tolima – is one of the most beautiful volcanoes found in Colombia. The last major eruption of this volcano was about 3,600 years ago. But there were several smaller eruptions in the 19th and 20th centuries. The most recent was reportedly in 1943.
This volcano is the second highest peak in the park with a height of 17,310 feet (5,276 meters).
It's typically a three- to four-day hike and climb to visit the summit of Nevado del Tolima. You'll hike first through tropical vegetation and find glaciers closer to the summit.
The ascent to Nevado del Tolima is considered one of the more difficult climbs in Colombia. It's quite steep and the glacier makes it even more challenging. Nevertheless, I have heard it's a great experience.
Laguna del Otún – Otún is a small lake in the park at an elevation of 12,800 feet (3,900 meters).  This lake is fed by the meltwaters from the Nevado Santa Isabel. And this lake supplies drinking water for the city of Pereira. Day trip hiking tours to this lake are available from Pereira.
How to Get to Parque Nacional Natural Los Nevados
Manizales is the nearest city to Parque Los Nevados. Manizales has a metro population of over 500,000. So, it has many lodging options including hotels, hostels and furnished apartments.
Manizales is a staging point many use for visiting Parque Los Nevados. And from Manizales you can arrange a full day tour into the park.
From Manizales, you generally depart in a 4WD vehicle early in the morning and return late in the afternoon. Various tour operators in Manizales offer such day tours. Also, hiking enthusiasts might consider arranging an overnight tour. Tour packages of up to four or even six nights with hiking and camping in the park can be arranged in Manizales.
I recommend the Ecosistemas Travel company, which has been in business since 2001 offering tours of the park from Manizales.
In addition, it's possible to access Parque Los Nevados (by foot) from the south. There are routes into the park from Ibague, Parque Ucumari and also Cocora Valley. These are long but very scenic hiking routes involving overnight stays. Guides can be arranged locally.
Currently, all visitors are required to enter the park with a guide, unless your access point is from Cocora Valley where there is no park office and no entrance fee. However, if you are planning to enter the park at Cocora, a guide is still highly recommended.
There are no buses available to get the park from Manizales, Salento, or Pereira. So, it's recommended to sign up with a tour operator who will take care of all the logistics.
Due to physical demands and altitude, a visit to the park is not recommended for people with physical disabilities, heart or respiratory problems, pregnant women, children under 5 years old or senior citizens.
Parque Nacional Natural Los Nevados 2019 Entrance Fees
Parque Los Nevados has entrance fees that vary depending on your age and whether you are a foreigner. The following are the entrance fees for the park for 2019:
Colombians and resident foreigners (and foreigners from Bolivia, Ecuador and Peru) from the age of 5 to 25 years old: 8,500 pesos
Colombians and resident foreigners (and foreigners from Bolivia, Ecuador and Peru) older than 25: 10,500 pesos
Other foreigners who aren't residents: 45,000 pesos
Children less than 5 years-old and Colombian citizens and resident foreigners older than 65 years-old can enter for free.
This entrance fee is usually included in park tour packages. In addition, there is a 6,000 peso fee for automobiles and 37,000 pesos for buses. And no motorcycles are permitted.
Park website: http://www.parquesnacionales.gov.co/portal/es/ecoturismo/region-andina/parque-nacional-natural-los-nevados/
What to Bring
Here's a list of items I recommend for a day trip to Parque Los Nevados:
Hiking shoes
Rain jacket / poncho
Warm jacket
Snacks
Water
Sun protection
Money
Camera
Extra batteries
When to Go to Parque Nacional Natural Los Nevados
Normally the best months to visit the park are from December through March and July and August.
During these months it is typically drier and less cloudy. So, the views are more spectacular. And during the rainier months of the year the trails can become very muddy.
Top Things to See and Do in Colombia
On the Medellin Guru website, we have been looking at some of the most beautiful places in Colombia in a series of top things to see and do in Colombia. This is due to many readers asking about several of these things to do in Colombia.
We have looked at 20 of the top things to see and do in Colombia, in alphabetical order:
Also, we included Parque Nacional Natural Los Nevados in our list of the top 20 tourist attractions in Colombia.
Medellin Guru's Guide to the National Parks in Colombia
Medellin Guru so far has only covered four of the 60 national parks in Colombia:
We plan to cover additional national parks in Colombia that are worth visiting.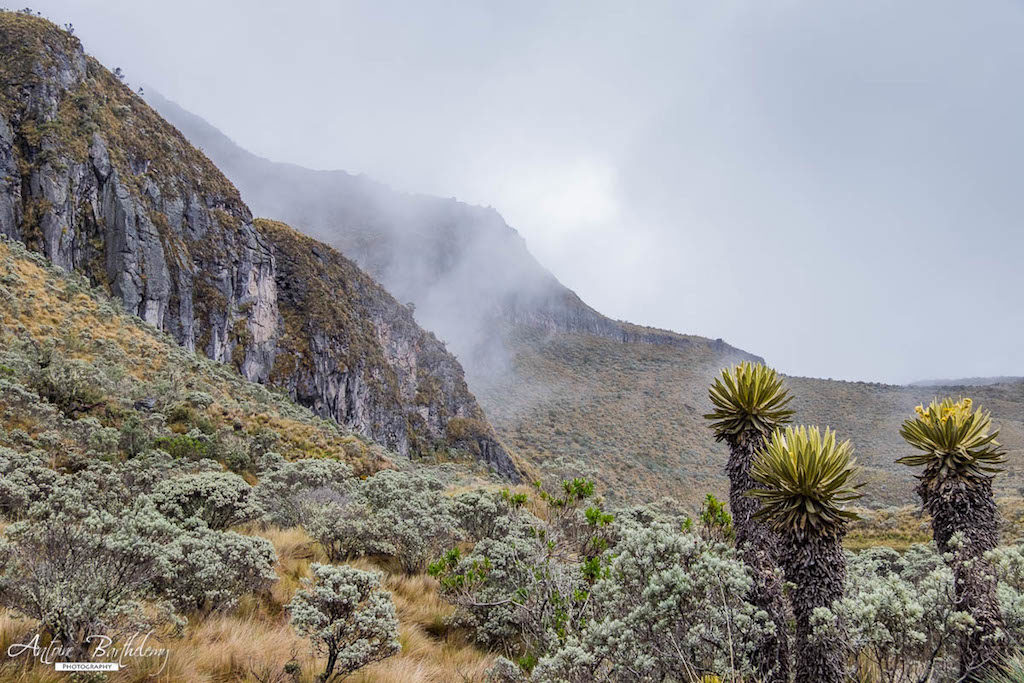 One of the many views inside Parque Nacional Natural Los Nevados
The Bottom Line: Parque Nacional Natural Los Nevados
Parque Nacional Natural Los Nevados provides access to some of the most stunning stretches of the Colombian Andes with some incredible landscapes. The varied altitudes in this park encompass everything from humid cloud forests to glaciers on the highest peaks.
I really enjoyed my trip to this national park in Colombia, which was an unforgettable experience. If you also would like to experience the phenomenal and unique landscapes of this national park in Colombia, I recommend the tour company I used, Ecosistemas Travel, which offers several different tours of the park.
Sign up for the Free Medellin Guru Newsletter – You can see all of the previous Medellin Guru weekly email newsletters and sign up here.
Editors note: updated on November 6, 2019 with the current entrance fees to Parque Nacional Natural Los Nevados.