Medellín's Museo de Arte Moderno (Modern Art Museum) is definitely worth a visit with an intriguing mix of exhibitions located in a striking building.
Colombia has a vibrant cultural scene. The fusing of indigenous, Spanish and African heritages has merged to create authors, musicians and dancers that captive the interest of the rest of the world. Just think about the literary great Gabriel García Márquez and the singer extraordinaire Shakira.
In the visual arts, Colombia also has some well-known exports. Without a doubt, one of most internationally recognized is Medellín's own native artist Fernando Botero. In fact, he is considered one of the most recognized living artists from all of Latin America.
Botero's signature sculptures in large and voluptuous proportions are worth millions of dollars. And they can be found in prominent places around the world, including Park Avenue in New York City. Most notably, visitors to Medellín have the unique privilege of seeing both 23 of his sculptures in Plaza Botero and an expansive two-dimensional collection in the Museo de Antioquia.
Museo de Antioquia is by far the city's most popular museum, which is regularly touted as a 'must visit' tourist attraction. But there are other galleries in town that display works of important Colombian artists. Namely, the Museo de Arte Moderno de Medellín (MAMM) or the Modern Art Museum of Medellín.
However, there is extensive debate on TripAdvisor and even from individuals I've met on whether the Modern Art Museum in Medellín is worth the visit. So, opinions are very mixed on this museum, with comments wavering from 'Skip!' to 'A Jewel in Medellín'.
With such dramatic differences in opinion, I had to check it out.  And my verdict? Well worth the visit. Here's why: 
The Modern Art Museum Building Itself is a Piece of Artwork
Architecture falls in the realm of visual art for me. And Medellín's Modern Art Museum is housed in a striking piece of construction. It occupies a large city block in the Ciudad del Rio (River City) neighborhood of El Poblado. Furthermore, it is a five-story concrete and rusted steel gem.  Most noteworthy, it's a visually striking building surrounded by open space.
The current building is relatively new. MAMM's first home was in a communal space that was originally intended for a church. Then in 2008, as part of an urban regeneration project by Mayor Sergio Fajardo's administration, it moved into part of a disused steel plant on the industrial land where it currently sits.
This structure only provided enough space to showcase temporary exhibitions. So, in 2009, the Modern Art Museum organized an international design competition for a world class museum infrastructure that could also include works from its temporary collection.
Fifteen prestigious international architectural studios were invited to submit their entries. In December 2009, the Peruvian architecture firm 51+1 and Colombian construction company Ctrl G were awarded first prize.
As often is the case with major museum expansion projects, it took until 2014 to raise the 24 billion pesos ($13 million USD at the time) needed to begin building works. And the imposing 7,000 square meter building we find today wasn't completed and open to the public until September 2, 2015.
The resulting design is inspired by Medellín's informal settlements that keep expanding up its hillsides. In the barrios, homes are piled on top of each other at juxtaposed angles and one's roof becomes another's terrace. Intersecting these private spaces is an interconnected network of public steps.
Mirroring the barrios, MAMM becomes a vertical village. It is composed of eleven concrete boxes of different sizes and heights. They are rotated and piled on top of each other in careful and strategic placement.
And just like the barrios, at the heart the building is a metal staircase, which winds its way up the central void to both connect the intricate succession of private spaces and to lead the visitor to the public fifth floor roof terrace. From here, one gets a privileged view of the city of Medellín from a rather tranquil space.
The resulting architecture combines precast concrete, white glass, and perforated burnt steel panels to form an industrial icon.  It reminds me of Tate Modern in London, which is housed in a disused power station on the banks of London's Thames river.
Permanent Exhibitions Provide a Visual History of Medellín
 The building and the terrace views of the Modern Art Museum are worth the visit alone. But the permanent exhibitions are why you should really come.
On the 4th Floor, you will find three permanent exhibitions that show a diverse collection of artworks from Colombian artists. This floor was the real draw for me.
So often exceptional artists are never shown outside of their home country due to the huge costs of insuring and transporting artworks. Without individuals interested in paying to see them on the other side of the world, they remain hidden gems in their countries of birth.
So, by visiting the Modern Art Museum you get the unique opportunity to encounter lessor known Colombian artists that are still greats. But more than that, art often provides a glimpse into the social and political issues occurring in a region at a specific point in time.  The permanent exhibitions of MAMM is no exception.
Many of the artists on display have drawn inspiration from the country's turbulent history.  In particular, the works by Débora Arango provide a unique visual commentary on Colombia's aspirations and social tensions that brings to life a story of this vibrant nation in a way history books can't.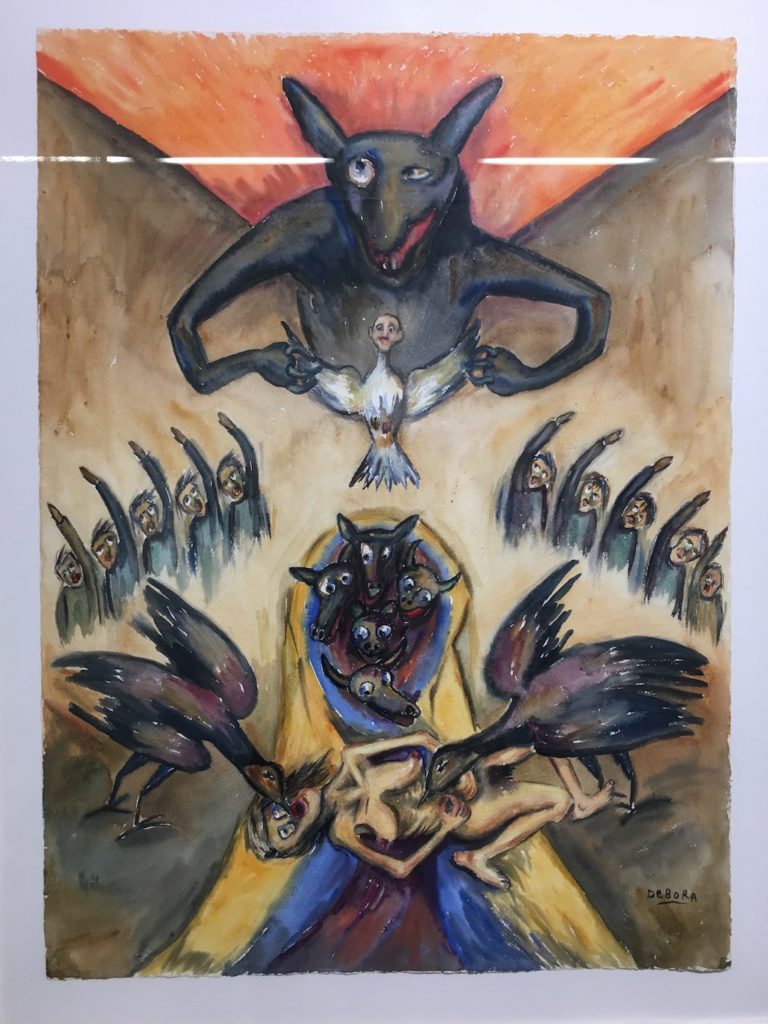 Débora Arango 'Life With All its Admirable Strength
In Gallery F on the 4th floor, you'll find the permanent exhibition of Débora Arango entitled 'Life With All It's Admirable Strength'.
Arango was born in Medellín in the early 20th century and her works in watercolors, oil paintings, and ceramics depict many of the social and political issues of Medellín during her lifetime.
In fact, politics is one of the more prominent themes embedded into her work, starting with the piece La Masacre (The Massacre) which depicts the violent clashes that ensued after the 1948 assassination of liberal Jorge Eliécer Gaitán.
Arango also portrays in her work a snapshot of urban Medellín in the '40s, '50s, and '60s.  From a period of rapid growth to a time when social injustice – particularly for women – was still dominate, the display gives the viewer with both a pictorial history and a deeper understanding of this vibrant city.
Year Zero: The Origins of the MAMM Collection
The Medellín Museum of Modern Art was established in 1978 by a group of artists wanting to raise public interest in modern and contemporary art.
In Gallery D, you will find a diverse collection of works that range from the early 70s to the dawn of the 21st century.  All the pieces are from Colombian artists and they provide an account of the diversity of the artistic practices in the region during the post-war period.
The 34 pieces range from two-dimensional works to sculptures in different materials and even textile works. Many of the works in this exhibition are the first works that constituted the Museum's estate.
AGPA Portfolios 'The Body'
In Gallery E, the permanent collection also houses a small, but jam packed room, of engravings and graphic arts pieces that are part of the AGPA portfolios.
The Pan-American Graphic Arts (Artes Gráficas Panamericanas – AGPA)  portfolios began in 1971. Ten Mexican artists were each commissioned to engrave an original piece of artwork.
During the following years, the program grew in importance and broadened to incorporate artists from all of Latin America, the United States and several European countries (France, Belgium, Spain and Italy).
With an international view, yet grounded in Latin American cultures, these portfolios include some of the most relevant Latin American artists of the last four decades. This includes Colombians Álvaro Barrios, Beatriz González, and Omar Rayo. Yet, another display of this countries renowned artists that you might not get to observe outside of Colombia.
Carlos Amorales 'Working Tools' Allows You to Be Part of the Art
How often to you get to touch the artwork on display in a gallery? Not often! But if you head to the Modern Art Museum soon you can.
From now until November 2017, you can become part of the artwork in Carlos Amorales' (Mexico City, 1970) exhibition 'Working Tools'.  Located in the Foundry section of Level 1 of the museum you will find an installation of cymbals suspended from the ceiling.
Arranged in three sections like a dangling Alexander Calder mobile sculpture, are several dozen brass cymbals where you are allowed to test your drumming skills.
On the walls, you will find the drumsticks. Grab a pair and start banging. One of artist's primary interests is music. And this piece – Ya versos cómo todo reverbera (We'll See How Everything Reverberates, 2010) – provides a chance for the visitor to be part of the art.
Amorales other passion is the moving image. And Gallery A is devoted to works shown in film-like format. I am not normally a fan of video installations, but something about the primary piece in this space both captivated and haunted me.
Depicted on the projection screen were black silhouettes of naked women. Overlaid on top were swirling red lines.  The movie transitioned to outlines of monkeys with skulls for heads.  The whole piece spoke of death and looming doom. The reverberating cacophony of cymbals in the background added to the oppressive atmosphere.
If both of these pieces are too contemporary for you, then head to Gallery B where you can find two-dimensional pieces in a variety of techniques.  I was particularly drawn to the abstract line drawings that were connected by minuscule squares giving the overall effect of constellation drawings.
The Extensive Gift Shop
I've long had an obsession with art gallery gift shops. Packed full of exhibition catalogs, colorful posters, artisan jewelry and trinkets galore, they are usually a stocked full of gems begging to be purchased.
My recent look around the gift shop of the Museo de Antioquia left me disappointed. Nothing really appealed to me there.  The shop itself looks dated.
Not the gift shops of the Modern Art Museum.  (Yes, there are two!)  Inside the main gift shop, you can find some great souvenirs for yourself and others.  From locally made silver rings, to colorful 8 x 10 prints of Medellín to t-shirts to handmade cosmetics to toys, I challenge you to enter and not leave without a token of your visit.
An additional gift shop sells handcrafted goods from Antioquia.  For purchase are hammocks, beaded jewelry, woven baskets and wooden cooking utensils.
The Ganso and Castor Cafe
No decent art gallery is complete unless it has a welcoming cafe to relax in afterwards.  The location of a Ganso and Castor cafe on the ground place fills this void.  Offering a range of teas, coffees, and cakes, it's a great location to unwind after all of that viewing stimulation. 
How to Get to Medellín's Modern Art Museum
Museo de Arte Moderno de Medellín (Modern Art Museum) is conveniently located a very short walk from the metro station Industriales on Metro Line A. Exit the station towards Carrera 48 Avenida Las Vegas and head towards El Poblado. The museum can be accessed off of Calle 20 just past the Mercado del Rio on the opposite side of the road.
In addition, any taxis drivers should know the location. And it is normally relatively easy to catch a taxi on the street outside the museum or back on the main road of Carrera 48.
Address: Carrera 44 #19A-100, Ciudad del Rio, MedellÍn, Colombia
Website:  www.elmamm.org
Phone: +57 4 444 2622
Hours: Tuesday to Friday: 9 am – 6 pm; Saturday: 10 am – 6 pm; Sunday: 10 am – 5 pm; closed Monday except on holiday Mondays.
Entrance fee: Adults 10,000 pesos; children and students less then 25-years-old 7,000 COP; adults older than 60-years-old 7,000  pesos. And on the final Friday of each month the museum is open later with entry free from 6 pm to 10 pm.
Museums in Medellín
On the Medellin Guru website, we have looked at 17 different museums in Medellín:
The 10 English-language Colombia guidebooks that I have are missing several of these museums. And each guidebook only includes six to nine out of the 17 museums in Medellín we have looked at.
The Bottom Line: Medellín's Modern Art Museum (MAMM)
Ok, so maybe Medellín's Modern Art Museum (MAMM) isn't as phenomenal as the renowned galleries of New York and London. And if you only have a few days in Medellín, I'd definitely recommend the Museo de Antioquia in Plaza Botero as your first choice.
However, if you are a long-term traveler or a resident in Medellín, then I highly recommend visiting MAMM.  It has an intriguing mix of exhibitions and public space that provides a civilized outing for a relaxing Sunday afternoon. And a relatively inexpensive one at that. It has an entry charge of just 10,000 COP (just over $3) and it is definitely worth exploring.
In addition, we included Museo de Arte Moderno (Modern Art Museum) in our list of the 12 best Medellín museums.
Sign up for the Free Medellin Guru Newsletter – You can see all of the previous Medellin Guru weekly email newsletters and sign up here.
Editors note: updated on June 13, 2018 with additional museum entry fee details.